Content
Carbon capture and storage technologies designed to reduce emissions are getting a better reception in the U.S. than in Europe, according to Technology Centre Mongstad (TCM), a Norwegian firm that tests CCS technology.
A CNBC report based on interviews with TCM executives says the U.S is a "more welcoming place" for CCS technology, at least at the moment, because Europe is recovering from a debt crisis and recession.
TCM executives told CNBC that the U.S. shale boom is making carbon emissions reduction technology an easier sale. Also, as part of its energy strategy, the Obama administration last year paved the way for the increased use of CCS technology, which traps carbon from power plants and then injects it underground.
Further, "the fracking revolution in the U.S., if anything, has generated more interest" in carbon emissions capture, says Olav Falk-Pedersen, TCM's business development manager. A number of U.S. and Canadian companies are interested, he added.
"In general, CCS has suffered a setback in Europe," Falk-Pedersen said.
Howard Herzog, a senior research engineer at the MIT Energy Initiative, noted the U.S. is friendlier to CCS than Europe is because it's more acclimated to drilling activities.
The U.S. "is more used to oil and gas exploration, and (the CCS) technology is similar to that," Herzog continued. "In parts of Europe, they just don't like drilling."
TCM says it is the world's largest and most advanced facility for testing and improving CO2 capture. The center is a joint venture set up by the Norwegian state (75.12 percent), Statoil (20 percent), Shell (2.44 percent) and Sasol (2.44 percent). It aims to "increase knowledge on carbon capture technologies, in order to reduce technical and financial risk, and accelerate the development of qualified technologies capable of wide scale international deployment."
The center operates two CO2 capture plants, each with a capacity to capture approximately 80,000 tons of CO2 from a nearby refinery or 20,000 tons from a gas-fired power plant. In addition, the center has available space and infrastructure to sustain the next-generation technologies to be tested in the future.
In a related development, TCM recently launched the world's first large-scale tests of the amine solvent MEA on a gas-fired source; the results will be shared with the global CCS community in order "to increase knowledge and understanding and accelerate the implementation of CCS."
Monoethanolamine (MEA) is used as a baseline solvent, which is commonly used in post-combustion carbon capture studies to compare the performance of proprietarily-developed amines and other CO2 removal processes, the center says. The firm, in cooperation with Aker Solutions, has been operating the amine plant since August 2012. TCM has begun large-scale testing of the performance of the MEA solvent system on gas-fired emissions sources, which will be shared openly, it said.
In addition to the somewhat better economic conditions in the U.S., there are still a large number of gas- and  coal-fired plants in the U.S. that will probably hang around once CCS technologies are widely available. Something needs to be done with them besides junking them, right? Plant owners can also thank the shale "boom" and the White House energy strategy.
Image credit: TCM facility in Norway via the TCM site
Featured Image Square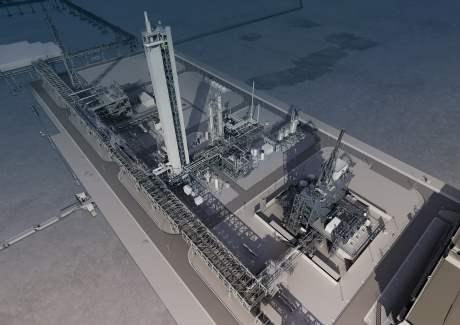 Featured Image Wide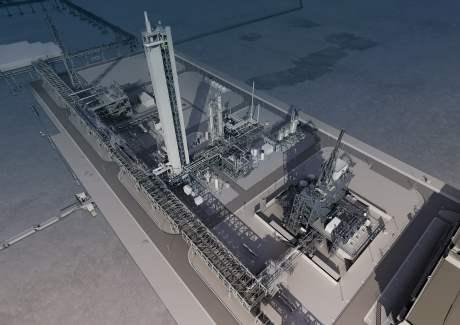 Featured Image Tall